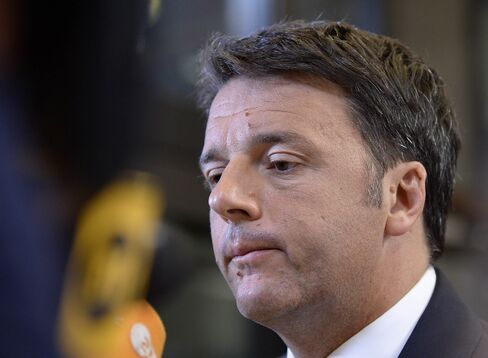 It's now a familiar refrain: A European prime minister calls a referendum, his job could be on the line and markets are getting worried.
This time it's not Britain's David Cameron but Italy's Matteo Renzi, who has called a vote on an ambitious overhaul of the political system aimed at ending the country's unstable governments. If he loses, Renzi has promised to quit, an outcome that Citigroup Inc. called probably the biggest risk in European politics this year outside the U.K.
The vote is expected in October, though it is already spooking investors and Italian bonds are once more under-performing their Spanish peers. The yield on 10-year Italian securities overtook those on similar-maturity Spanish debt for the first time in almost a year on June 27, a day after Spain's Acting Prime Minister Mariano Rajoy defied opinion polls to consolidate his position in a general election.
A public opinion poll by Euromedia Research said that 34 percent of Italians would vote against Renzi's plan, with 28.9 percent in favor, 19.4 percent undecided on which way to vote and 17.7 percent undecided on whether to vote. The poll based on 1,000 interviews was conducted on July 1. No exact date for the referendum has been set.
"A negative outcome would herald a new phase of extremely high political uncertainty, with a notable absence of major centrist leaders and a rising risk of populist movements taking hold," said Marco Protopapa, economist at JPMorgan Chase & Co. in London.
At 1.25 percent, yields on Italy's 10-year benchmark bonds were nine basis points higher than Spain's on Monday after the spread widened to 11 points on June 29.
Italians will vote on Renzi's proposal to reduce the number of senators to 100 from 315 and limit the upper chamber's power to bring down governments. Meanwhile, the anti-establishment Five Star Movement is poised to profit from a defeat. An opinion poll by the Demos institute showed last week that Five Star has overtaken Renzi's Democratic Party to become the country's most popular group. Five Star wants to hold a referendum on Italian membership of the euro.
"Any outcome of the referendum that is seen as destabilizing the status quo could add to the headwinds for the Italian economy and the euro," said Valentin Marinov, a strategist at Credit Agricole SA in London.
Renzi, 41, is already facing an uphill battle to put the economy on a sound footing. The International Monetary Fund predicts gross domestic product will expand only 1.1 percent this year, trailing most other euro-area economies. Italian unemployment in May was stuck at 11.5 percent, well above the 10.1 percent average for the 19-nation region as a whole.
Echoing warnings in the U.K. before its vote to leave the European Union last month, business lobby Confindustria forecast in a July 1 report that Italy's economy would fall back into recession in case of a "no'' vote on the Senate reform. Investments would decline 17 points over three years, it said.
Still, the Italian vote is not likely to lead to the country's questioning its place in the EU. "Italexit" is not a likely scenario as Beppe Grillo, founder of Five Star, has recently taken a far more conciliatory tone, Commerzbank AG analysts Marco Wagner and Joerg Kraemer wrote in a note. What's more, Italy's constitution doesn't allow for referendums to change international treaties.