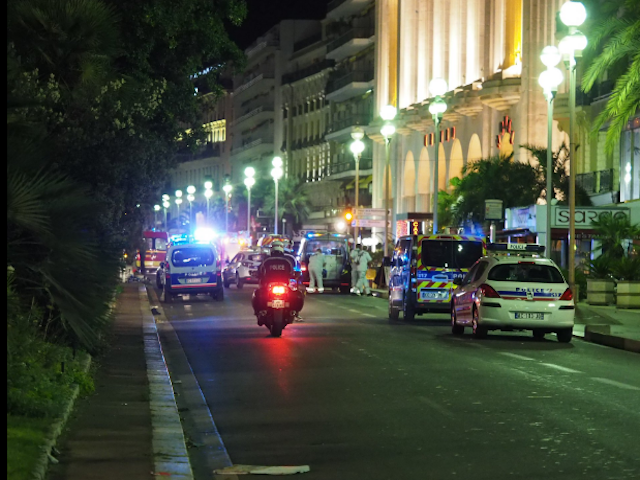 Sky News is reporting that at least 30 people have died during Bastille Day celebrations in Nice, France after a truck ran into a large crowd. Police have announced they are treating the incident as "an attack."
Update: 7:11PM EDT: Journalist Damien German has posted his account of being on the ground in Nice during the attack on the forum Medium in French. He recounts in part:
In the distance a noise. Shouts. My first thought: a delinquent wanted to fire his own little fireworks and has not mastered how to do it… But no. A split second later, a huge white truck was traveling at breakneck speed over people…

This truck of death passed a few meters from me and I did not realize it. I saw bodies flying like bowling pins in its path. Heard noises, screams that I will never forget. I was paralyzed. I did not move. I followed this hearse with me eyes. Around me, there was panic. People were running, screaming, crying. Then I realized. And I ran with them…

Blood. Groans. Sunbathers [on the beach near the promenade] were first at the scene. They brought water to the wounded and towels they filed where there was no hope. At this time, I lacked courage. I wanted to help, to be of service… in short to do something. But I did not succeed.
Update: 7:02PM EDT: Le Monde reports that the Interior Ministry cannot confirm rumors that grenades or explosives were found in the truck, which are circulating in French social media.
Photos are also beginning to surface of the aftermath of the incident. Bodies can be seen mangled and strewn across the street Warning: Graphic Images Below: